Please note there are several inferior copies of "The Original Copper Heeler"®™ on the market. These are potentially dangerous and could cut the foot. We have the European Patent and the genuine Copper Heelers.

The Original Copper Heeler Review - NewsWatch
The Original Copper Heeler -
as seen on Channel 4's Health Freaks
Watch our short film and find out more...

The Copper Insole -
also seen on national television "This Morning" with Dr Chris: Health Alert
---

---
Frequently asked questions:

Q: Does the copper have to touch the skin?
A: No, socks or stockings can be worn

Q: Is it safe to wear Copper Heelers if I am wearing a pacemaker?
A: Yes, Copper Heelers are safe to use if you are wearing a pacemaker

Q: I already wear orthotics in my shoes, can I wear Copper Heelers with these orthotics?
A: Yes, you can wear Copper Heelers with existing orthotics, you just need to give them a slight twist to make them fit.

The amazing Copper Heeler can potentially relieve the discomfort and help with the symptoms of crippling Arthritis.

Ultra thin
Fits any footwear
Anatomically designed
The best quality copper
Contoured to the foot for ultimate comfort

Tens of thousands sold world-wide

The Original Copper Heeler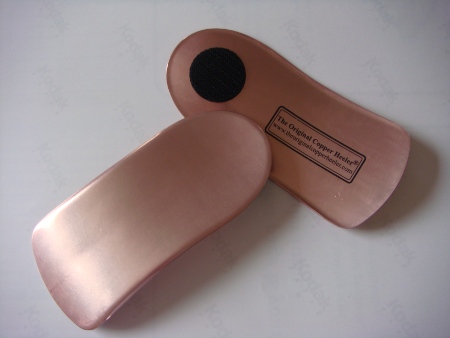 Fix inside shoe using velcro supplied.
Arthritis Pain Relief! Can help with the discomfort of Arthritis. Order today...
I was passionate to find a drug free solution to stop the crippling pain of this "quality-of-life" destroying disease.

45 years experience enabled me to develop "The Original Copper Heeler"®.

Thousands of customers Worldwide are now living their lives pain free.

Anthony Andrews
Relieve the discomfort of Arthritis now! Order today...
If you are located in any of the following countries please contact our local distributors.